How Can We Customize Your Custom Flag?
Your happy memories will not fade with time if you share them with loved ones with a custom made flag or banner.
You will remember the best moments of your life every time you take a glance at your custom printed flag.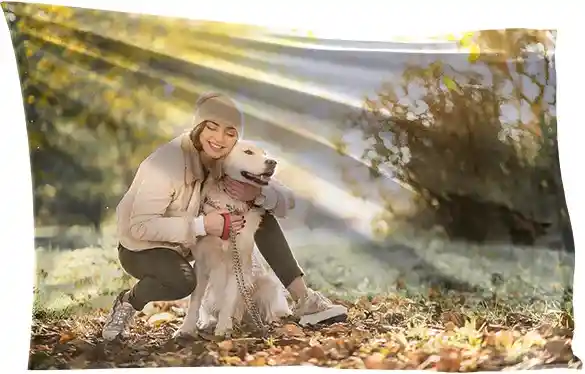 Family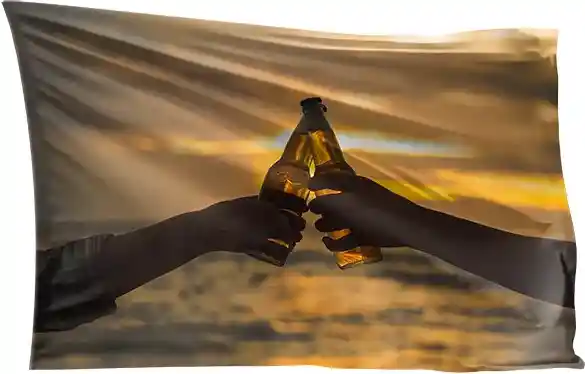 Relotionships
Symbols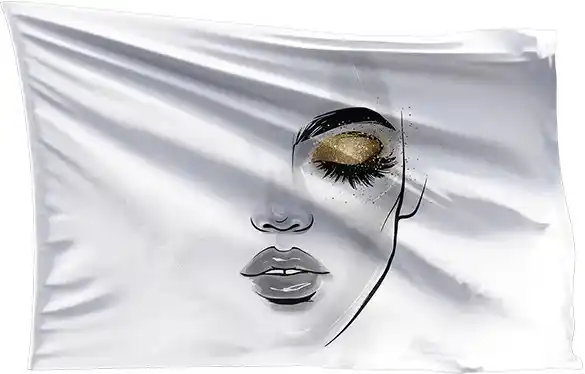 Advertising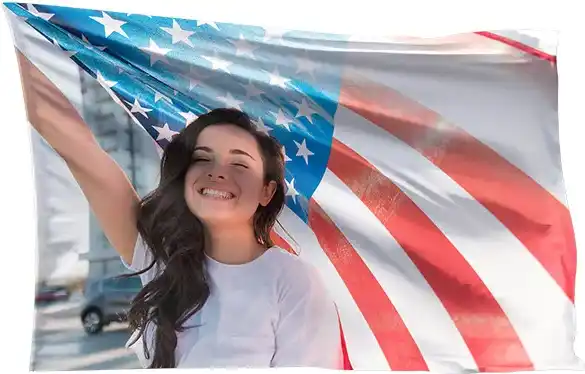 Celebration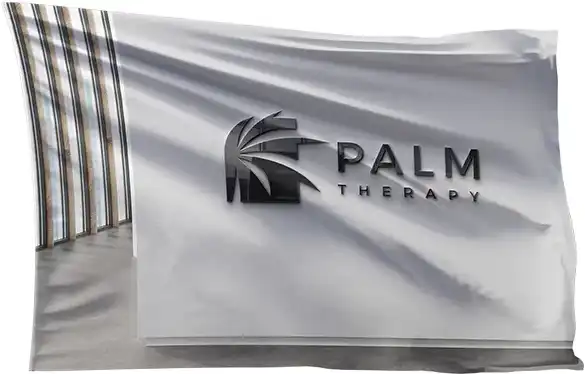 Promotion
Just upload your digital printing file and we will transform it into your custom flag or banner.
You can add simple text or shapes to your flags free of charge.

Step 1: Choose the Shape of Your Custom Flag
Are you ready to embark on the journey of creating your custom flag? Beyond the captivating artwork you envision, the shape of your flag plays a pivotal role in defining its overall aesthetic. We present four distinct flag shapes, each with its unique advantages and popular applications.
Step 2: Choose the Size of Your Custom Flag
If you're undecided about the flag size, you can explore the comparative images or refer to the table provided below. If any of the sizes in the table below are not available among our product options, please don't hesitate to get in touch with us via email. We're available to assist you in case you're seeking a different size for your custom flag.

Custom Flag Sizes: A Comparison Table
| SMALL | STANDARD | OVERSIZED |
| --- | --- | --- |
| 8 x 12 In | 2 x 3 Ft | 8 x 12 Ft |
| 12 x 18 In | 2.5 x 4 Ft | 10 x 15 Ft |
| 16 x 24 In | 3 x 5 Ft | 12 x 18 Ft |
|   | 4 x 6 Ft | 15 x 25 Ft |
|   | 5 x 8 Ft | 20 x 30 Ft |
|   | 5 x 10 Ft | 30 x 50 Ft |
|   | 6 x 10 Ft | 30 x 60 Ft |
Step 3: Choose the Number of PLY of Your Custom Flag
When it comes to personalizing your Custom Flag, the choice between 1 PLY and 3 PLY can make a significant impact. Delve into the world of quality and design as we present two exceptional options, each catering to distinct preferences and settings.

Should you opt for 1 PLY or 3 PLY when ordering your Custom Flag?
1 PLY FLAGS (Single Sided)
Experience the perfect outdoor companion – our 1 ply flags. Crafted for exceptional durability and optimal performance, these flags are tailored for outdoor use, with a design that strikes a harmonious balance between lightweight elegance and steadfast resilience.
3 PLY FLAGS (Double Sided)
Experience the epitome of craftsmanship with our 3PLY flags, designed for those who appreciate the finest details. Engineered to perfection, these flags offer a unique blend of elegance and functionality, making them an exceptional choice for various occasions.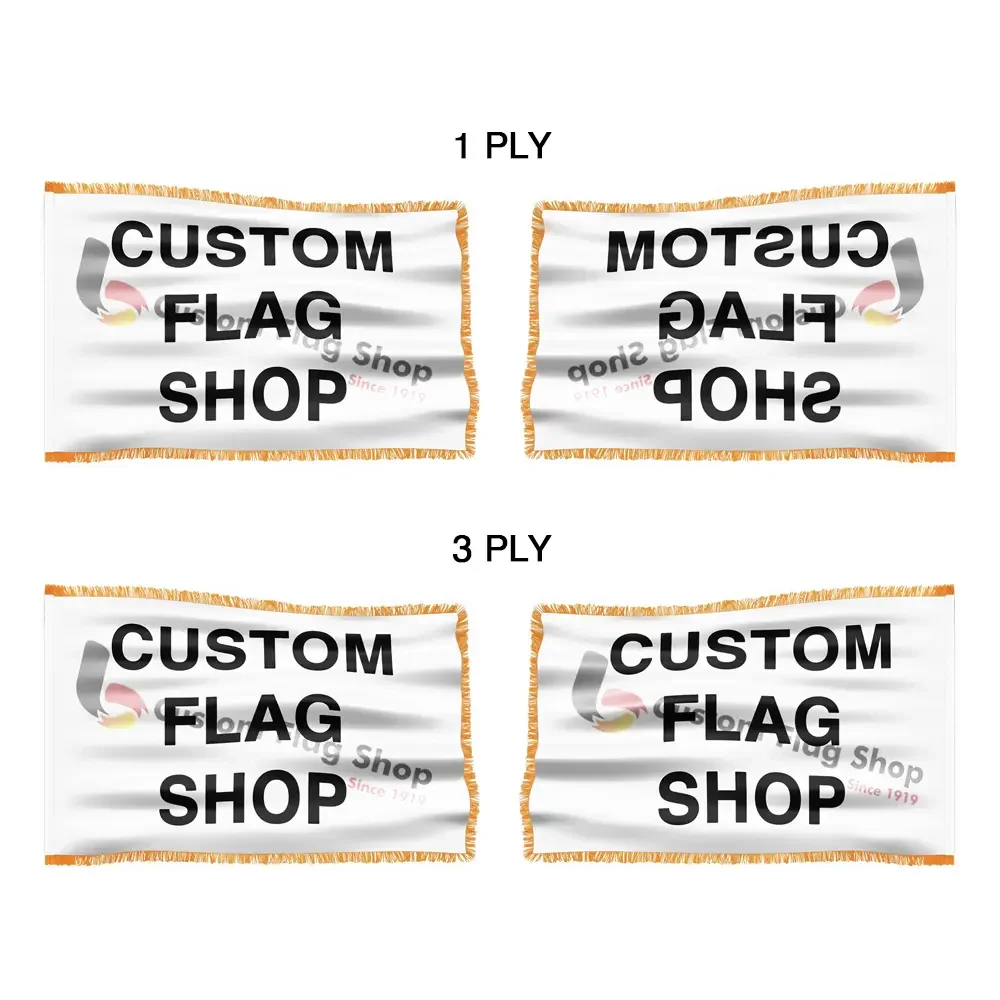 Step 4: Choose the Fringe of Your Custom Flag
Elevate your Custom Flag to the pinnacle of elegance with our exclusive offering of flags adorned with gold, white, and black fringe. Crafted to embody luxury and sophistication, these flags seamlessly combine vibrant design with opulent detailing. The intricate fringe adds a touch of regal charm, making your flag not just a statement piece, but a true work of art that commands attention and leaves a lasting impression. Whether for ceremonial events, grand occasions, or simply to add a touch of grandeur to your display, our flags with gold, white, and black fringe are the epitome of refined style.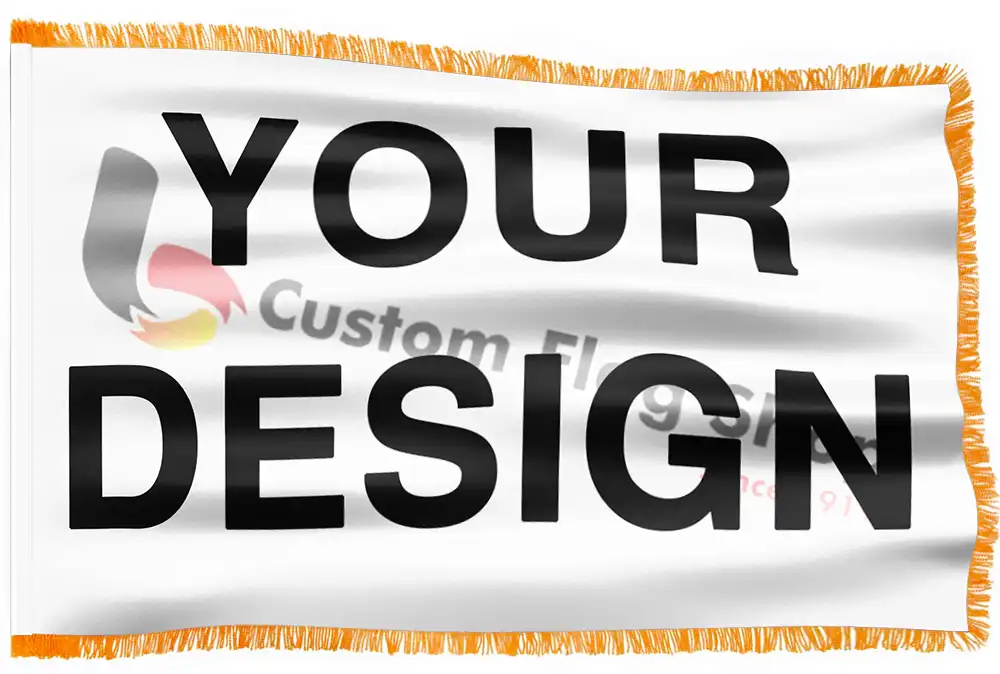 Gold Fringe On The Cutom Flag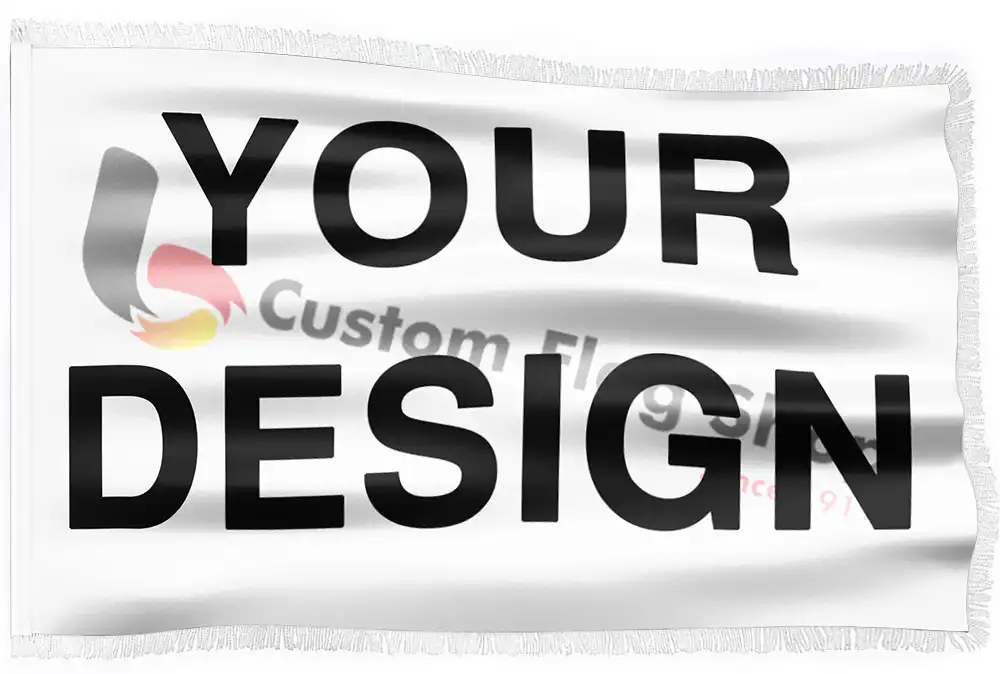 White Fringe On The Cutom Flag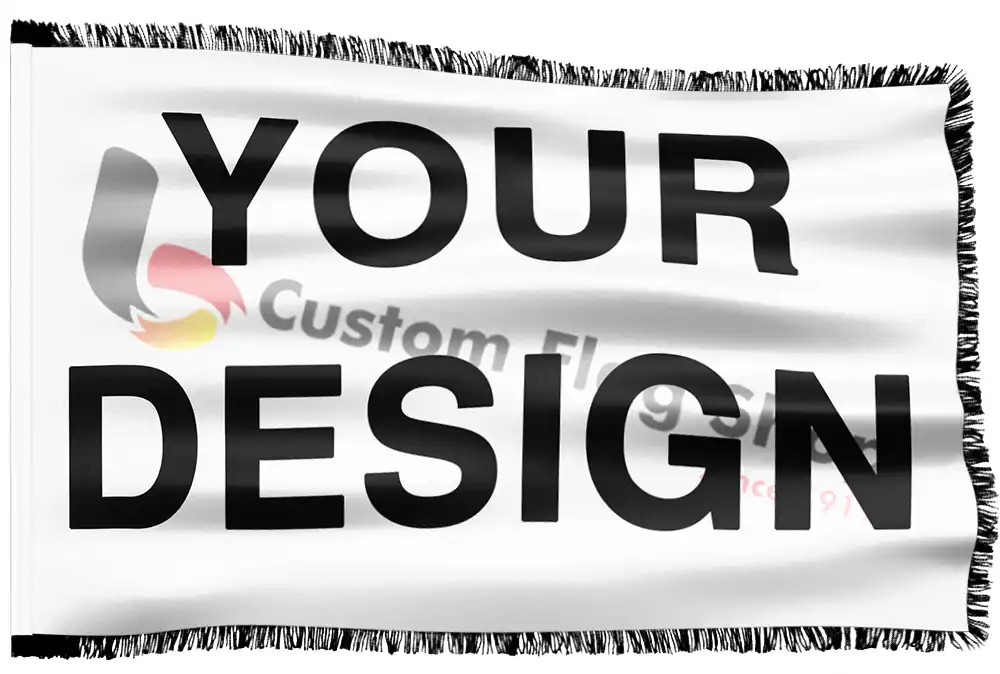 White Fringe On The Cutom Flag
Step 5: Choose the Finishing of Your Custom Flag
Our selection of attachment options provides you with the flexibility to choose how you'd like to display your Custom Flag. Whether you prefer the sleekness of Aluminium Grommets, the convenience of D Rings, the classic style of a Simple Sleeve, or the traditional charm of Rope & Toggle, we offer a range of choices to suit your preferences. Each option is designed for durability and ease of use, ensuring that your Custom Flag can be proudly showcased in the manner that best suits your setting.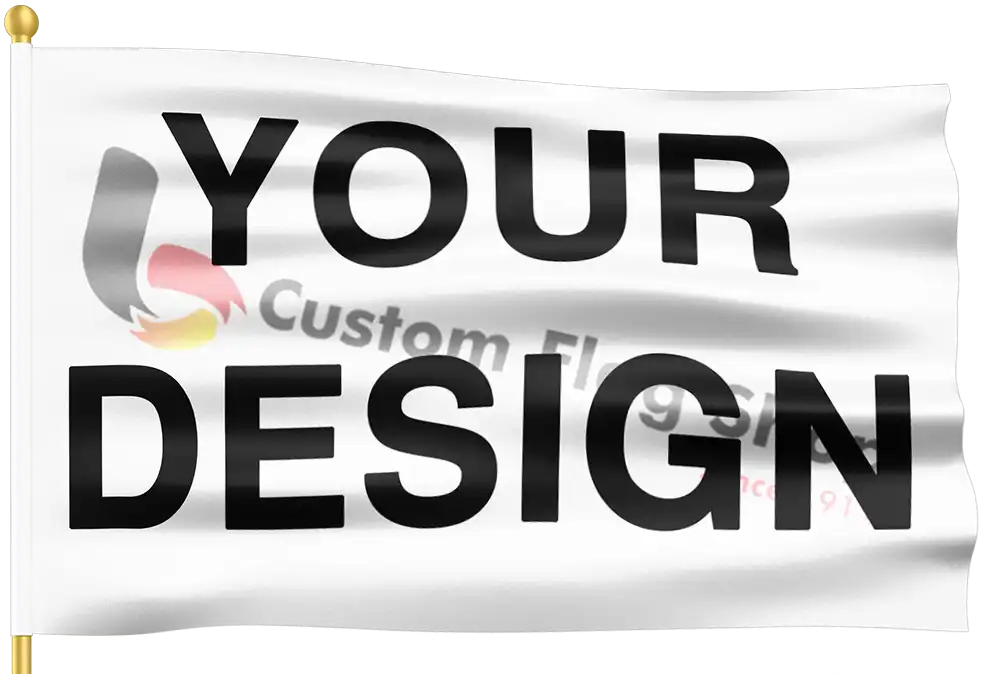 Simple Sleeve
Default to fit 1.25 In poles, leave a note if you prefer another size made.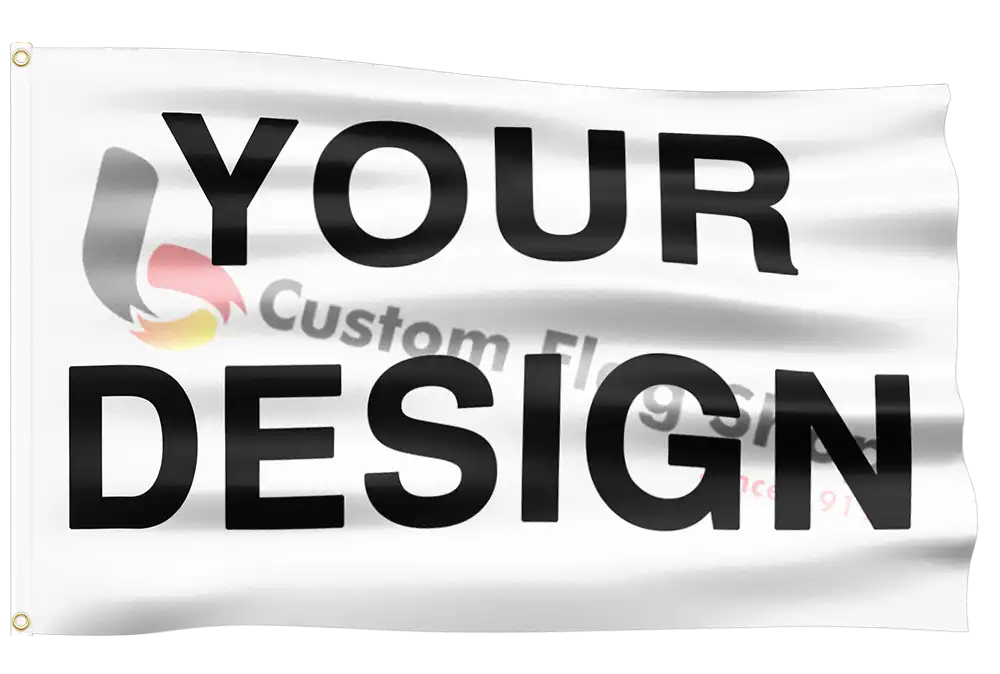 Left Side Grommets
with a white header on the left side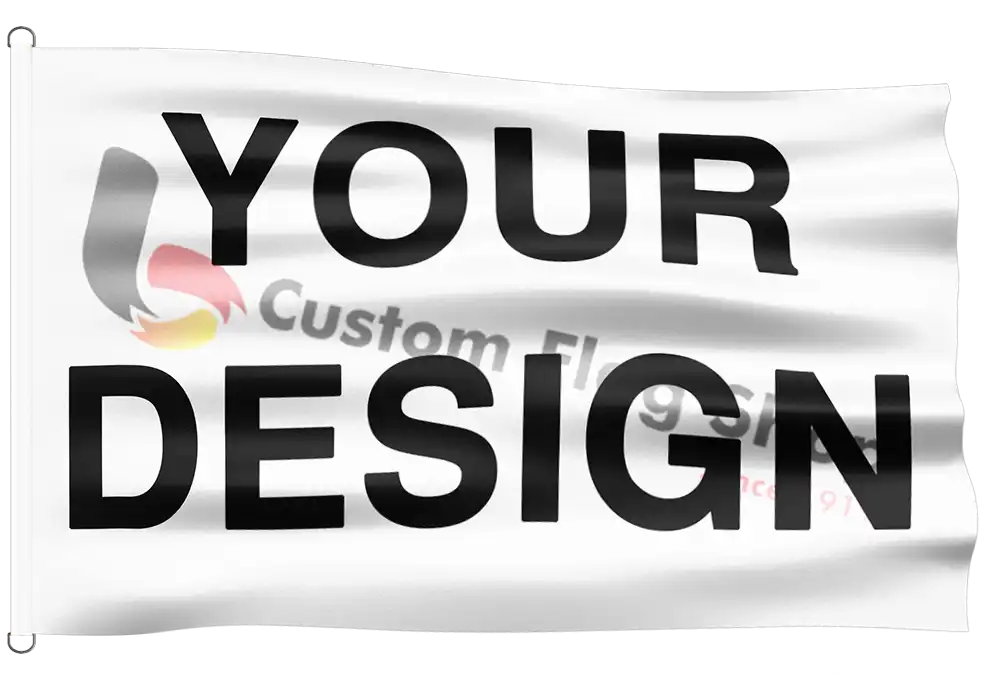 D Rings
with a white header on the left side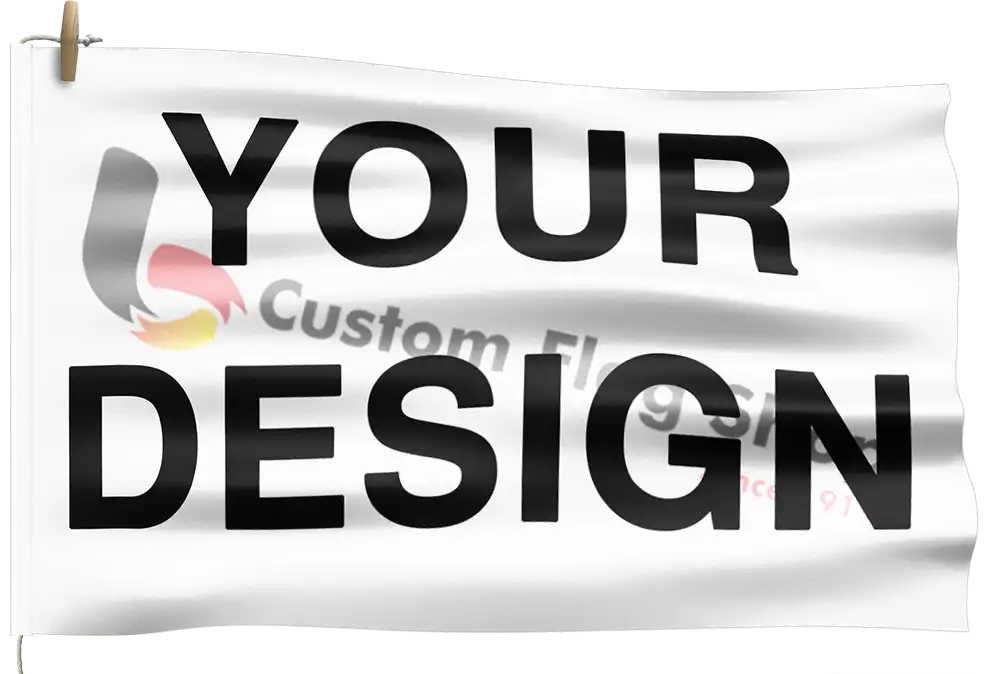 Rope & Toggle
with a white header on the left side

Step 6: Upload the Artwork of your Custom Flag

In this crucial step of the process, you'll be taking a significant stride toward bringing your custom flag to life. Uploading the artwork for your flag is where creativity truly takes center stage. Here's what you need to know:
Digital Precision: Make sure your image is in digital format; because this allows for precise machining and printing. Accepted file formats are PSD, AI, CDR, EPS, SVG, JPEG/JPG, PNG, GIF and PDF. High resolution images are preferred to guarantee the best possible quality.

Color Consistency: To maintain the integrity of your design, ensure that the colors in your digital artwork match your desired flag design. It's essential to review the color codes or specifications if you have any.

Size Matters: Verify that the dimensions of your artwork align with the size of the flag you've selected. This will help prevent any loss of image quality when it's printed on your custom flag.

Design Clarity: Pay close attention to the details of your design. Is it clear and easy to understand, even from a distance? Remember, your flag's message or imagery should be instantly recognizable.

Review and Confirm: Before proceeding, carefully review your uploaded artwork to ensure it's precisely what you envision. Once you're satisfied, you can confidently move forward in the customization process.
Our online ordering process offers a seamless experience, guiding you effortlessly through to a smooth checkout. Upon securing your payment and order details, our creative engines roar to life. A meticulously crafted proof awaits your confirmation, setting the stage for the production of your Custom Flags. With your approval, the manufacturing process commences, ensuring your flags take shape promptly and beautifully.

How To Order Your Custom Flag?

STEP 1: Tailoring Your Flag Details
Embark on the journey by selecting your Custom Flag specifications, including size, ply count, fringe, finishing options, and desired quantity. Every detail matters as we work to make your vision a reality.
STEP 2: Submitting Your Artwork
Share your existing artwork in compatible formats such as png, jpg, jpeg, gif, ai, psd, cdr, eps, or pdf. Experience the enhancement of color adjustments, graphics, and text additions at no extra charge, empowering your design.
STEP 3: Seamless Order Placement
Navigate our user-friendly online ordering process and proceed to checkout. As payment and order details are confirmed, the creative process commences. A proof is thoughtfully crafted, ensuring your Custom Flags match your vision flawlessly.
STEP 4: Production Ignites
With your confirmation, our skilled team leaps into action, bringing your Custom Flags to life through dedicated craftsmanship. Every stitch and detail work together to manifest your ideal design.
STEP 5: Elevated Arrival
Experience the thrill as your masterpiece prepares for its journey to you. Anticipation builds as we prepare your order for dispatch, accompanied by a unique tracking number, seamlessly guiding your "Custom Flags" to your hands.
Elevate your surroundings with the exceptional charm of Custom Flags that mirror your unique essence. From imagination to creation, this journey culminates in a tangible masterpiece that embodies your identity. Empowered by choice and creativity, your custom flags eagerly await their moment to shine.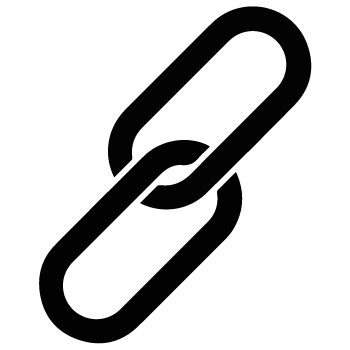 DURABILITY
We use 100% polyester flag fabric that is resilient to all wheather conditions.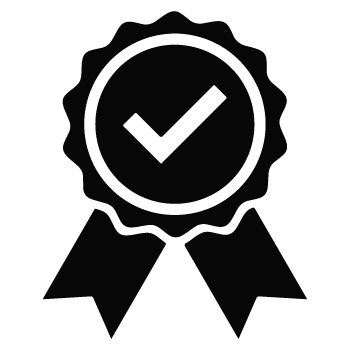 QUALITY
We will make sure you will be satisfied with our products.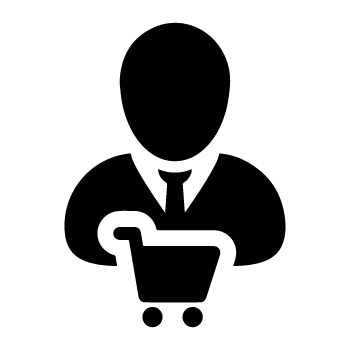 PRIORITY MAIL OPTION
If you have a rush order, please contact us to ask if we can meet your deadline.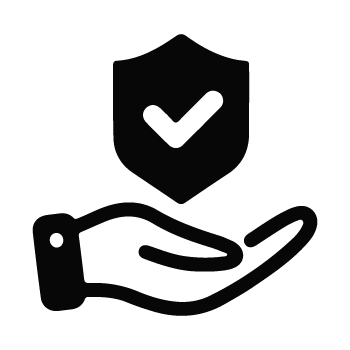 COMPREHENSIVE CUSTOMER SERVICE
ur customer service will always be available for any question or request
9 to 5.

High-Quality Fabric for Lasting Impressions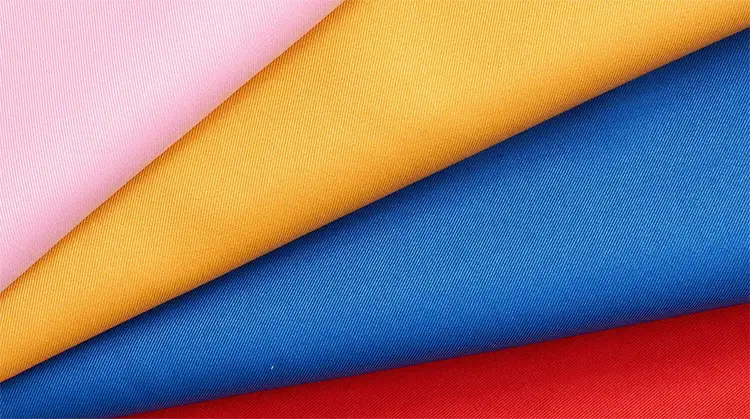 Our Custom Flags are meticulously crafted using durable knitted or woven polyester fabric, ensuring longevity and vibrant displays. With direct-to-textile printing, your designs come to life with stunning clarity and unmatched vibrancy, making each flag a testament to your brand's excellence.
Do You Need Our Help With Your Artwork?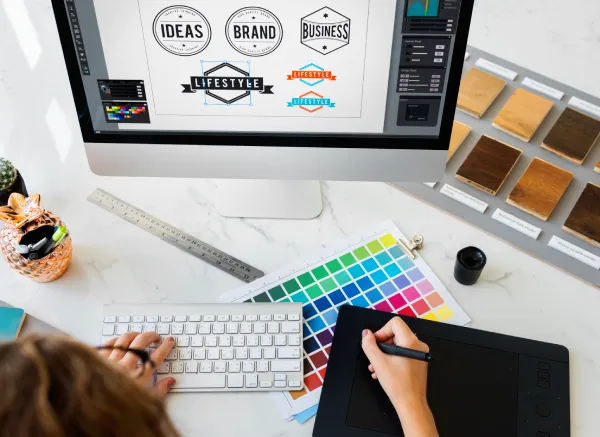 If you need help with uploading your file at the order page, you can contact us by sending us an email to info@customflagshop.com
If you need a custom graphic designed by us, our designers will draw it for you for a small fee. Just send us a brief describtion of what kind of artwork you need, we will draw it for you.

What is the turnaround time?
After you confirm the final proof, we will print and dispatch your Custom Flag in 5 to 7 business days. The shipment will be delivered in 1 to 3 days after dispatch.
Can I return the product?
All stock flags can be returned if there is any problem with the product. Custom Flag order flags cannot be returned. If there is any manufacturing defect with the product, we will replace it free of charge.
Can I use 3 ply double-sided Custom Flag outdoors on my flag pole?
We do not recommend 3 ply flags outdoors on Custom Flag poles. These are 3-layer fabric, extra heavy flags and they deteriorate faster under strong winds due to extra weight. You can display 3 ply flags outdoors for a short term like parades or weekend fairs. For outdoors, 1 ply flags are recommended.
Fade Resistant Inks For Outdoor And Indoor Custom Flags
Experience the pinnacle of color brilliance and durability with our Custom Flags. Our premium European flag inks are engineered to withstand the test of time, ensuring that your flags remain vivid and vibrant throughout their entire life expectancy. Whether displayed indoors or outdoors, our fade-resistant inks guarantee that your custom designs will shine with unparalleled allure.


In addition to our exceptional inks, we take pride in our meticulous craftsmanship. Every Custom Flag is double-stitched with precision, ensuring longevity and structural integrity. Our commitment to quality extends to the materials we use for headers, utilizing the best available in the industry. Elevate your displays with flags that not only captivate with their vibrant hues but also endure with resilience, making a lasting impression in any setting.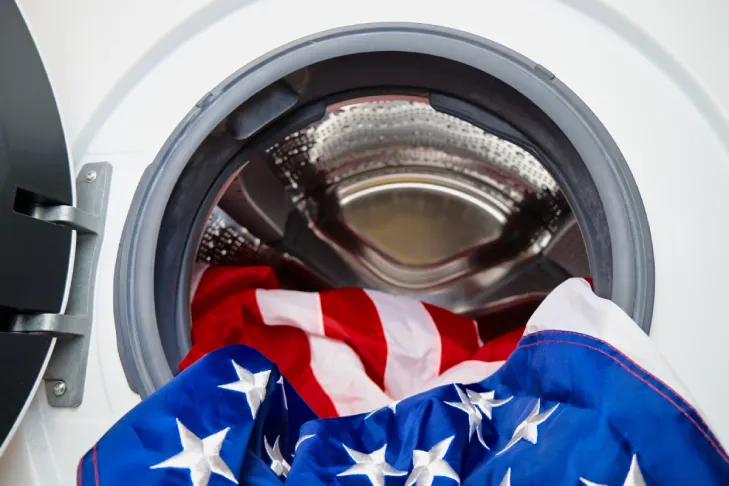 Gentle Washing
Wash your custom flags with care using mild or cold water, maintaining a temperature below 40°C. To maintain their exquisite appearance, choose the gentle cycle of your washing machine, ensuring the colors remain vivid.
Avoid Bleach
Preserve the integrity of your Custom Flags by refraining from using bleach during the washing cycle. This precaution prevents any color fading or damage to the fabric.
Delicate Drying
For optimal results, opt for hang drying or utilize a low-temperature dryer setting suitable for synthetic delicate clothing. This step prevents excessive heat that could potentially affect the fabric's texture.
Ironing Guidelines
Should your Custom Flags require a touch-up, utilize a suitable temperature for polyester fabrics when ironing. This ensures that the flag's pristine appearance remains intact.
By caring for your Custom Flags with consideration, you extend their life span and ensure that they continue to make a captivating statement in any setting. Our commitment to quality is echoed in every thread, and your dedication to proper care allows their brilliance to shine through the passage of time.

HOW TO INSTALL YOUR CUSTOM FLAG ON A FLAG POLE?
Secure the Clips or Hooks
Begin by fixing two clips or quick-release hooks onto the rope that will hoist your Custom Flag on the pole. This step forms the foundation of a secure and steady display.
Create Loop Knots
Craft two small loop knots on the hoisting rope, strategically spaced to align with the grommets on your flag. This meticulous approach guarantees a harmonious fit.
Attach with Confidence
Affix your chosen clips or hooks onto these rope loops, creating a seamless connection between your Custom Flag and the hoisting rope. This thoughtful arrangement ensures effortless attachment during each hoist.
Alternatives for Success
In the absence of clips or quick-release hooks, leverage plastic zip ties to affix your Custom Flag to the rope loops. This versatile solution guarantees a secure attachment, allowing your flag to flutter in the breeze.
With these steps, you bring your vision to life, amplifying the impact of your surroundings with a Custom Flag that embodies your identity. Let your installation journey reflect the pride and care that define the essence of your personalized masterpiece.